Programs
Rock Climbing Level -1 Training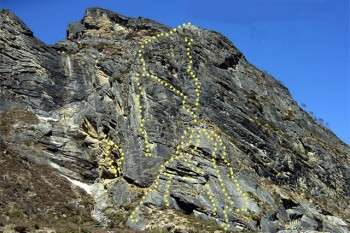 Venue: Kathmandu Valley and Bimalnagar, Tanahau, Nepal
Number of Participants: 20
Learning Objectives
Enjoyment, team work, communication
Encouragement and support, mutual respect
listening skills, carrying out instructions, risk awareness
Personal safety, awareness and consideration of others
Environmental awareness, personal preparation
Increased self esteem and confidence, exercise and awareness of physiology
Problem solving, safety awareness, responsibility for own and others' safety
Shared experience, care of equipment, geographical awareness
Willingness to try, learn about wildlife and the natural environment
New skills, new hobbies, personal development, sense of achievement.
Importance of Rock Level-1 climbing Training
Nepal Mountaineering Instructors Association -NMIA has been conducting Rock Level-1 training since long time to produce quality rock climber's in Nepal. The NMIA annual training was started from 2nd February to 16 February in Kathmandu and Bimalnagar at Tanahau District, Nepal.
During training the participants and instructors completed Knot's Racking, Climbing communication, Lead climbing , Climbing and rappeling with twine rope, release stuck client during twine rope climbing , practical introduction to opening new route with drill machine etc.
Although conducting this kind of course is quite expensive financially, even so there is high demand of this kind of training in tourism industry. According to the previous incidents records, we definitely need to set up the qualified National responsible Rescue team as soon as possible with affiliation of related Government and non-government organization.